While major advances have been made in responding to HIV and ensuring access to lifesaving treatment, progress for adolescents urgently needs to be scaled up.
Young people, especially young women and young key populations, continue to be disproportionately affected by HIV—In 2014, there were 3.9 million young people aged between 15 and 24 years living with HIV and 620 000 young people became newly infected with the virus. AIDS is now the leading cause of death among young people in Africa and the second leading cause of death among young people world-wide.
Young people are continuing to face immense challenges in accessing timely and appropriate health education—including comprehensive sexuality education, social services—including access to youth friendly services, and decent housing and job opportunities. However, the opportunities for youth to engage in decision-making processes to ensure access to these essential services remain limited.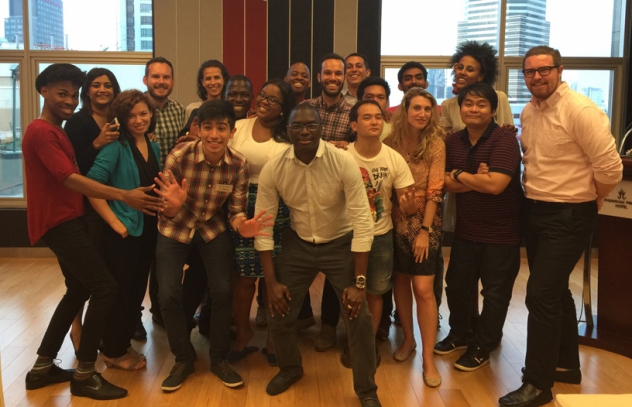 To celebrate International Youth Day and young people's empowerment, UNAIDS and The PACT, a global coalition of youth-led and youth-serving organizations, met in Bangkok to discuss ways of ensuring the active participation of youth in efforts to end the AIDS epidemic as a public health threat by 2030.
The three-day meeting, held from 10-12 August, focused on shaping The PACT's strategy to mobilize the global youth movement and build the capacity of youth organizations to engage in the AIDS response. They addressed issues such as policy and legal barriers for young people's access to HIV services, scale-up of evidence-based HIV prevention and treatment programmes and increasing resources for youth organizations.
The PACT committed to continue to shape a strategy to ensure that young people are meaningfully engaged in All In—an initiative led by UNAIDS, Unicef and partners to end HIV among young people. Participants also agreed on a strategy to mobilize youth organizations to hold governments' accountable for ensuring access to comprehensive sexuality education and youth friendly services.
Quotes
"Meaningfully engaging young people is the first step to the realization of our rights. Our voices are finally being heard and institutions like UNAIDS recognize our capacities to create innovative ways of addressing our needs."
Daniel Tobón Garcia, Youth Coailtion for Sexual and Reproductive Rights
"The PACT is a platform for youth organizations to lead the response to achieve the end of the AIDS epidemic among young people."
Oliver Anene, HIV Young Leaders Fund
"By believing in young people and creating a space for strategic collaboration, we are driving partnerships for transformative change in the AIDS response."
Mimi Melles, UNAIDS Youth Programme