In collaboration with its partners, the International HIV/AIDS Alliance and UNAIDS, RANAA held two sub-regional training sessions in the MENA region focused on "Management and Leadership in CSOs".
These two  trainings highlighted the main functions of the directors and the ways to improve their managerial and behavioral skills to help achieve CSOs objectives, as well as help them understand the dynamics of teamwork and promote cooperation. The sessions also noted the importance of communication, leadership and problem-solving.
Training workshop in Lebanon:
The first training workshop was held in Lebanon on 26, 27 and 28 July 2011 in Sheraton Hotel, attended by 17 directors and representatives of CSOs members of RANAA working on AIDS in the MENA region. Attendees were from Jordan, Bahrain, KSA, Syria, The Sultanate of Oman, Yemen, Palestine, Lebanon and Egypt.
Training workshop in Morocco:
RANAA Network organized the second sub-regional training in Rabat- Morocco on 10, 11 and 12 November 2011 in collaboration with the "Reseau des Organization. Marocaines Contre le SIDA" (ROMS). This workshop gathered directors of CSOs members in RANAA from Tunisia, Algeria, Djibouti, Sudan, Somalia, Libya and Morocco and included 19 directors, secretary generals and project managers.
Training workshop in Sudan:
In collaboration with the Sudan AIDS Network (SAN), UNDP-HARPAS and UNAIDS, the Secretariat organized a sub-regional training workshop for the Horn of Africa countries on "Leadership and Advocacy" in Khartoum, Sudan on 13, 14 and 15 December 2011.
The workshop targeted PLHIV working on advocacy and support in National Networks for PLHIV, support groups or CSOs focusing on PLHIV and it gathered 25 PLHIV from the following countries: Sudan, Djibouti, Somalia and Yemen.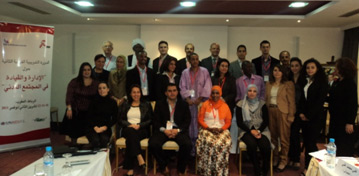 This workshop aimed at shedding the light on the rights of PLHIV, informing participants of how to draft advocacy and support plans, from analyzing the current situation and setting objectives to preparing the file and writing strategies and determining needs as well as drafting the advocacy campaign's executive plan. Its agenda also highlighted the importance and types of leadership and how it can be abided by individually and in groups through the different preparation and execution stages.
At the end of the workshop, an advocacy work plan was drafted for each of the four countries to be shared with national networks respectively. The work plan will be used to launch the support and advocacy campaign to limit stigma and discrimination.