The Network's Secretariat gathered information from member CSOs regarding their needs and matters of interest by partaking in technical visits to various cities.
Based on these findings, RANAA, with the support of UNAIDS and the International HIV/AIDS Alliance, organized technical field visits for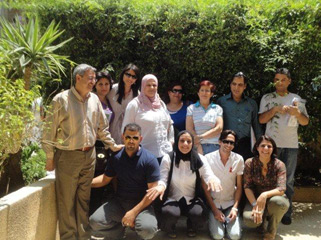 10 members of MENA countries. 
Exchange visit to Lebanon, 29 June to 1 July 2011
The first Exchange visit to Lebanon took place from 29 June to 1 July 2011. The Secretariat hosted several organizations from different MENA countries: We Love Life from Bahrain, Friends of Life from Egypt, El Hayat from Algeria, Positive Vision from Jordan and Vivre Positif from Lebanon.
This visit aimed at:
- exchanging experience among people working in CSOs
- strengthening cooperation and dialogue pertaining to the challenges and methodologies in participating countries.
- addressing the subjects of support/awareness services, rights, and advocacy.
Field trips were organized to local relevant organizations, PLHIV and MARPS associations.
Exchange visit to Tunisia, 24, 25 and 26 October 2011
The second visit was to Tunisia  and it took place on the 24th, 25th and 26th of October 2011. It was organized by the Secretariat in coordination with the Association Tunisienne de Lutte contre les MST et le SIDA and Al Rahma organization.
The aim of this visit was to introduce participants to the services provided to PLHIV in Tunisia and exchange experience among members to benefit, transfer and implement it wherever applicable  in their respective countries.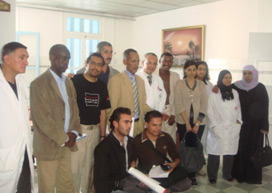 This visit consisted of eight people including program directors in member organizations directly involved with PLHIV projects, directors of PLHIV organizations and members of support groups from the following countries: Mauritania, Somalia, KSA, Algeria and Yemen.
Exchange visit to Alexandria, Egypt- 6, 7 and 8 February 2012


RANAA Secretariat organized a visit to Egypt on the 6th, 7th and 8th of February 2012 in coordination with the Egyptian National Network Against AIDS (ENNAA), CARITAS Alexandria and with the support of UNAIDS.
The aim of this visit was to introduce participants to the importance of PLHIV support groups, developing member organizations' skills in the field of services provided to MARPS and PLHIV, providing these services and marketing them  through their organizations. It also aimed at introducing the preventive role of voluntary counseling and testing (VCT).
This visit included key personnel and field experts from CSOs working on HIV/AIDS, such as: Yes for Sudan, Social Services from Yemen, Aid association in Yemen and the Youth Association for Population and Development from Egypt.